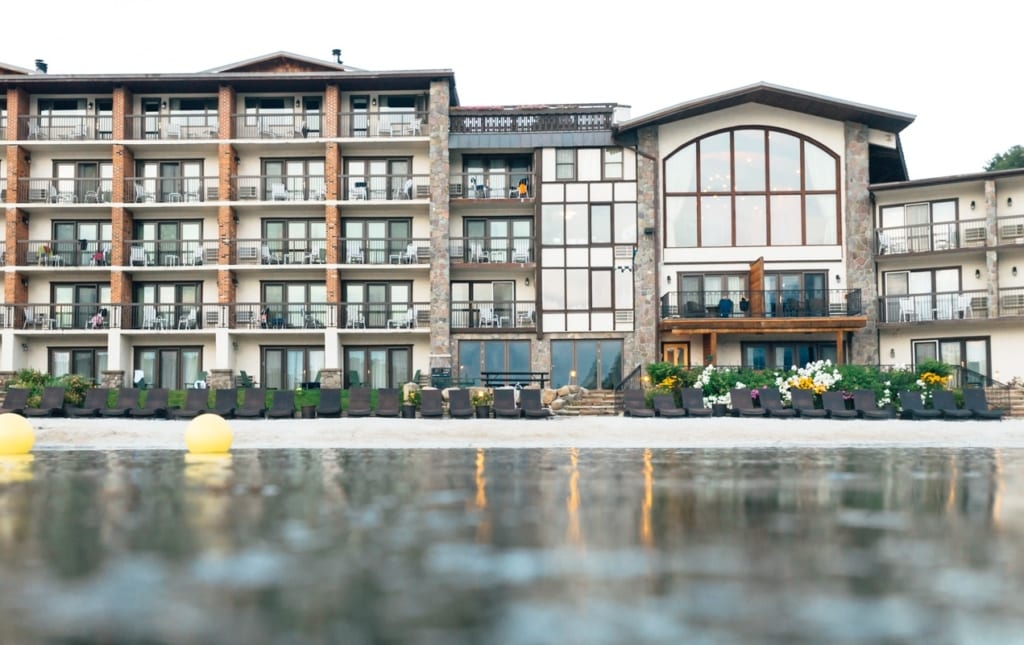 "The only thing we overlook is the lake"
Surrender yourself to the natural and untouched beauty of the Adirondack Mountains at the first resort in the U.S. to receive the Audubon International's Platinum Eco Rating for Hotels.
It's a place to renew yourself on the serene shores of Mirror Lake, and take in the history of the town, just steps away from the famed Olympic Village and the heart of Lake Placid, New York.
No other place on earth provides this unique blend of comfort, rejuvenation, or one-of-a-kind experiences. Start planning your stay at the Golden Arrow Lakeside Resort now!
Our guests truly feel at home here at the Golden Arrow
Lakeside Resort.
We are pleased to provide refrigerators, microwaves, Keurig single cup coffee brewers, hair dryers & free wireless internet access
in all of our Guest Rooms. 
Also, all of our guest rooms are 100% smoke free! 
Indoor Pool* 
   +2 Whirlpool Tubs
   +Sauna & Steam Bath
Fitness Center*
   +Locker Rooms w/Sauna
Private Beach
   +Complimentary Water Craft
   +Snack Shack
Free Parking
Free WiFi
Complimentary Coffee & Tea
Attached Mall
Family Friendly
Eco Friendly
Pet Friendly
*The pool & gym are currently closed until the end of September
Our family friendly restaurant, Generations, is open for breakfast, lunch & dinner. 
The menu features our version of classic American & North Country Style cuisine with the occasional German outburst.
This was one of the last spots to get around 4th of July, so we went for it. And I'm so happy we did! The cleanliness of room 435 (lakefront) was pristine, towels were super crispy, amazing amenities (shampoo/conditioner/lotion), modern phones, Keurig coffee machines, great coffee, fridge/freezer in room, beautiful balcony and the most breathtaking views of the lake! The resort has its private beach, and it's amazing as it's better than the public beach nearby. Free use of kayaks, canoe, boat and SUPs along with beach towels was the utmost superb perk for the water activities. As we brought our own wine, of course, we forgot corkscrew. And guess what? The front desk gave us their branded corkscrew! Not one hotel in the past had them (Hilton, Marriott etc.), but they did! THANK YOU! You have been the best! We want to come back soon!
We had such an amazing stay. It was so clean which was important to us with COVID. The staff was also so warm and welcoming from the moment we arrived. We cannot wait to come back!
We just returned from a getaway at the Golden Arrow Resort. It was a wonderful experience! What a beautiful property and a great location! Our room was very comfortable and we appreciated having the refrigerator and the microwave. A baggie of treats for our dog during checkout was such a thoughtful touch. Our stay was memorable and we look forward to coming back soon!
Lake Placid is where vacation begins – literally. The word vacation originated in Lake Placid in the 1800s when the nation's social elite would "vacate" the stifling summer heat for the cool Adirondack air.
Lake Placid is still a popular vacation destination for those looking for outdoor adventure; whether it's hiking, kayaking, leaf peeping, or skiing, there's something for everyone!