Home to the 1932 & 1980 Winter Olympics
Lake Placid is where vacation begins – literally. The word vacation originated in Lake Placid in the 1800s when the nation's social elite would "vacate" the stifling summer heat for the cool Adirondack air. Lake Placid is still a popular vacation destination for those looking for outdoor adventure; whether it's hiking, kayaking, leaf peeping, or skiing, there's something for everyone!
The Adirondack Park is made up of 6 million acres and contains the largest protected area in the contiguous United States. Within this richness of land is an abundance of hiking trails. From small trails that take less than an hour, to the 46 high peaks that are over 4,000 feet in elevation, there's a mountain for everyone to conquer.
Beginners can start with local favorites like Cobble Hill or Henry's Woods before moving on to a high peak.
Indian Head and Catamount Mountain are great 4 hour hikes that give you amazing views with a little less elevation gain.
If you want to conquer a high peak, but don't want to spend all day doing so, Big Slide Mountain or Phelps are good options. But, if you want to go all-in, tackle Panther Peak or Mount Haystack. These all day hikes will take some time, but the views will be totally worth it! 
Note: Don't confuse Mount Haystack and with Haystack Mountain. While both would make for a great hike, they are very different!
Mount Haystack is the 3rd highest of the 46 peaks coming in at an elevation of 4,960 feet and is over 16 miles round trip, while Haystack Mountain has an elevation of 2,874 feet and is 6.6 miles round trip. The same goes for Panther Peak and Panther Mountain.
Panther Peak (the 18th highest peak) is 12.5 miles with an elevation of 4,442 feet, while Panther mountain is 1.2 miles with a 2,236 foot elevation. 
Make sure you are prepared for any hike you chose to do. Make sure to plan ahead and know the conditions of trails as well as parking! The DEC is a great resource for everything you need to know, including what to pack.
Lake Placid, home to the 1932 and 1980 Olympic Games, is one of only three locations to host the Winter Olympics twice. The year-round resort village is likely best known for the 1980 "Miracle on Ice" hockey game where the USA upset the heavily favored USSR team by a score of 4-3. They then went on to win the Gold Medal by defeating Finland 4-2. The 1980 Herb Brooks arena is still used today and open to the public to explore.
Lake Placid is also one of the few Olympic Villages with all its venues within a 20 minute drive of each other. Lake Placid is also unique in that you can see every venue from all the others. Meaning, if you venture to Mount Vanhoevenburg and check out the Olympic Sports Complex (home of the combined Bobsled, Luge, and Skeleton Track) you will be able to see Whiteface Mountain, The Olympic Center (1980 Rink), and the Ski Jumps!
Strangely enough, none of the Tri-Lake villages (Lake Placid, Saranac Lake, and Tupper Lake) lie on their namesakes.
Lake Placid sits on Mirror Lake, a serene and beautiful lake that reflects the village surrounding it. Mirror Lake offers a wide and unique range of activities all year round. During the summer months, the lake offers a nice retreat for kayaking, paddle boarding, and swimming. Mirror Lake is also where you will see hundreds of athletes swimming during the Ironman Triathlon and 70.3. 
During the winter months the lake freezes over and is the perfect spot for a dogsled ride or pick-up hockey game. You can also go down the Toboggan Chute, a 30 foot tall converted ski jump!
Lake Placid hosts many events throughout the year.
During the summer months you can check out Songs at Mirror Lake – a 7 week concert series at Mid's Park. The genre changes weekly so you'll always have a new experience. The locations allows for attendees to listen by water – kayak, paddle board, or canoe over –  or by land – bring your lawn chair or blanket over and sit in the grass!
During the fall, Whiteface Mountain has an annual Oktoberfest – a weekend-long, Bavarian-style celebration with authentic music, dancing, food and beer—rated one of the 5 Must-Visit Oktoberfests in North America by SKI Magazine!
There's also the Flaming Leaves Festival – an annual two day event that celebrates the colorful beauty of the Adirondack fall season with Ski Jumping Competitions! *Note – there will not be a Flaming Leaves Festival in 2019 as the Olympic Jumping Complex is undergoing renovations for exciting new activities!
During the winter, snow covered mountains and sparkling lights along Main Street, make Lake Placid shine in beauty. Visit during the Holiday Village Stroll for family friendly weekend full of events, entertainment, parties, dining specials and shopping!
"The only thing we overlook is the lake!"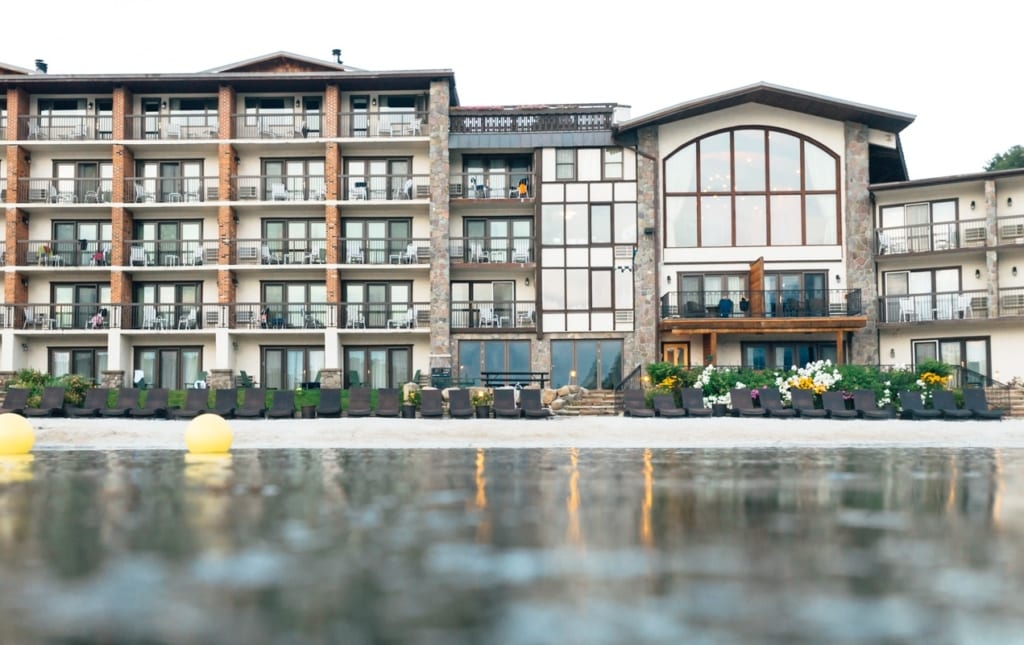 Surrender yourself to the natural and untouched beauty of the Adirondack Mountains at the first resort in the U.S. to receive the Audubon International's Platinum Eco Rating for Hotels. There are now only six hotels in the United States to obtain this honor! It's a place to renew yourself on the serene shores of Mirror Lake, and take in the history of the town, just steps away from the famed Olympic Village and the heart of Lake Placid, New York. No other place on earth provides this unique blend of comfort, rejuvenation, or one-of-a-kind experiences. Start planning your stay at the Golden Arrow Lakeside Resort now!