photo credit: tupperlake.com
Family Friendly Activities
"We didn't realize we were making memories, we just knew we were having fun"
-Winnie the Pooh
The Adirondacks are a very family-friendly destination, whether you're looking for an outdoor adventure, a seasonal celebration,
or want to take a walk through history, there's something for everyone to enjoy.
Here are some of our favorite picks for you and your family to explore.
Tupper Lake | 29.5 miles | ~40 minute drive
Explore The Wild Center and its new Wild Walk—an elevated trail across the Adirondack treetops. Find new ways to connect with nature through outdoor experiences and guided paddling trips, and explore a 54,000-square-foot museum with live animals and hands-on everything.
Please note that RESERVATIONS ARE REQUIRED for all visitors.
Other changes include:
Face masks are required
They've gone cashless
Indoor exhibits, the cafe & the store are closed
More sanitizing stations and outdoor sinks have been installed
Wilmington | 8.3 miles | ~13 minute drive
High Falls Gorge is a 22 acre, privately owned nature park. With safe trail access for all ages, you can view four splendid Adirondack waterfalls cascading over rocks into a deep crevice carved a billion years ago. In the shadow of Whiteface Mountain, you can take a nature walk to view the famous AuSable River as it cascades over ancient granite cliffs.
Sturdy bridges, walkways and groomed walking trails provide safe access to breathtaking Adirondack views and scenic photographic vantage points.
Apples, pumpkins, the crisp air. Just a few of the great things about fall in Upstate New York.
Some of the best places to take all of that in are local farms and orchards. 
Fun for the whole family, and less than an hour from Lake Placid, they are a must on your fall bucket list while visiting the Adirondacks.
North Pole | 14.2 miles | ~20 minute drive
On the side of Whiteface Mountain, in a Hamlet of Wilmington, New York, sits the North Pole – home to Santa's Workshop. Opening in 1949, Santa's Workshop was the first of its kind and helped spread the popularity of theme parks.
While theme parks have changed over the years, Santa's Workshop remains a piece of history. A place where kids, and kids at heart, can let their imagination run wild. A place of nostalgia that hopes to keep giving people that feeling of believing.
Santa's Workshop is open Tuesday – Saturday during the summer and weekends during the fall and winter. You can also visit a special Village of Lights on select days closer to Christmas – the park is transformed into a Winter Wonderland complete with caroling, fire pits, and a Nativity pageant.
2019 marked the 10th annual Holiday Village Stroll in Lake Placid, New York. The stroll is three days long with a variety of family fun events and activities. Friday evening, the event kicks off with a skating party at the famous 1932 Rink; with special guest Santa Claus!
Some other fun things to know about Holiday Village Stroll:
Dress up as Santa on Sunday and score a free lift ticket to Whiteface Mountain!
All weekend long, local bands will be playing live music at restaurants around town.
Various shops and restaurants offer special promotions!
Saturday is packed full of events including:
End the weekend on Sunday with Breakfast with Santa, Candy House Making at Generations, and free sleigh rides around Mirror Lake.
Lake Placid is a great place to hold a family reunion, and the Golden Arrow would love to host! From welcome receptions on our rustic boathouse, to a lakeside ballroom dinner, we've got options for every celebration. 
"The only thing we overlook is the lake!"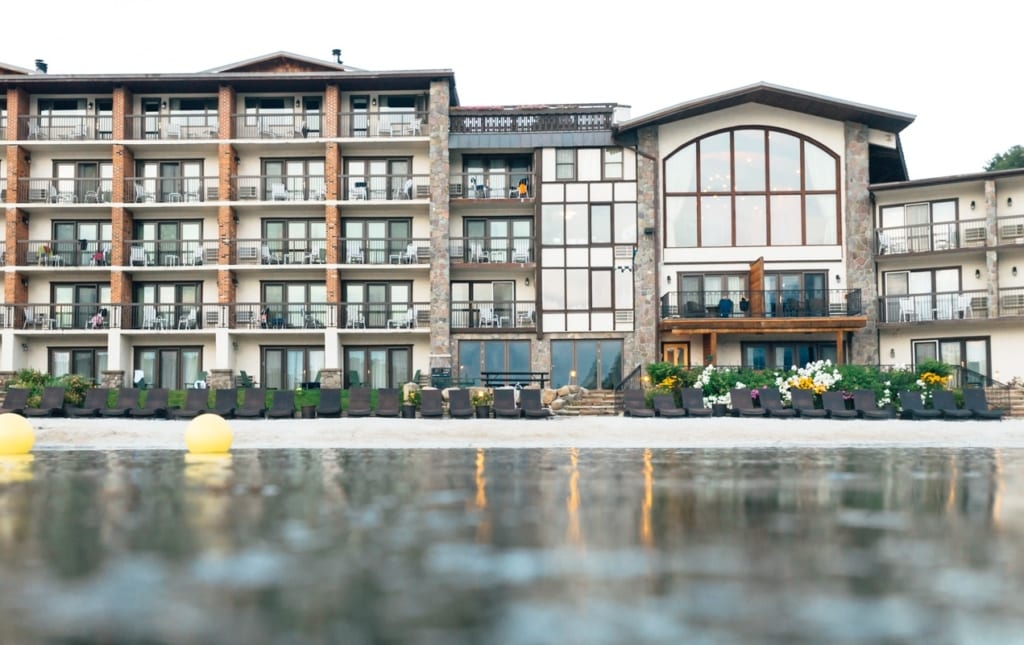 Surrender yourself to the natural and untouched beauty of the Adirondack Mountains at the first resort in the U.S. to receive the Audubon International's Platinum Eco Rating for Hotels. There are now only six hotels in the United States to obtain this honor! It's a place to renew yourself on the serene shores of Mirror Lake, and take in the history of the town, just steps away from the famed Olympic Village and the heart of Lake Placid, New York. No other place on earth provides this unique blend of comfort, rejuvenation, or one-of-a-kind experiences. Start planning your stay at the Golden Arrow Lakeside Resort now!