Top 10 Places to Eat in Lake Placid
"One cannot think well, love well, sleep well, if one has not dined well." ― Virginia Woolf
Here at the Golden Arrow our front desk staff gets the "what's a good place to eat" question all the time. While there's plenty of places to eat around Lake Placid, we have our favorites that we tend to recommend over and over, because well, they're the best! This list contains Lake Placid restaurants with a variety of cuisines and atmospheres, so even the pickiest of eaters should be able to settle on someplace to eat! Bonus: most are within walking distance of the hotel!
If you want a really good sandwich, go to…
With the same owners, and similar menus, either option is a great choice for a delicious lunch time staple.
Big Mountain Deli & Creperie is located on Main Street and convenient if you're waking around town. Big Mountain is a colorful daytime counter-serve restaurant known for their 46 sandwich varieties – all named after the 46 High Peaks of the Adirondacks. They also offer a variety of breakfast options, salads, sweet and savory crepes, plus smoothies and beer. They use fresh ingredients, including Boar's Heads Meats and homemade bread.
Don't let the long line and chalkboard wall intimidate you. The line moves quickly and you can't go wrong with any menu choice!
Simply Gourmet is just a short drive up Saranac Ave (only 1 mile from the Golden Arrow) and offers the same sandwich menu, plus a soup bar and selection of prepared foods and baked goods. You can also order online from Simply Gourmet, which is a great option if you're in a hurry!
What you should eat:
#3 Haystack: roast turkey, smoked cheddar, roasted red peppers & maple mayo
#19 Table Top: applewood smoked bacon, lettuce, tomato & maple mayo
When you should go:
Big Mountain is open 8am – 3pm daily
Simply Gourmet is open 8am – 6pm Monday through Friday
& 8am – 4pm Saturday & Sunday
Lisa G's features comfort foods with a modern twist. They have a great selection of wing flavors + a variety of dips to go with them. If you're having a hard time choosing what to get, stop by on Monday night for Wing Night. If you sit on the bar side you can choose how many of each flavor you want for a discounted price. Plus, they have a special flavor of the night!
Wing flavor to try: Maple Bourbon with Creamy Feta Dip
They also have the "Best Burger in Town," a beautiful (and dog friendly) outdoor seating area that overlooks the Chubb River, and a great drink selection!
Drinks to try:
Mango Margarita – Triple Sec, mango puree, sour mix, cinnamon sugar rim
Dirtbag Tea – Citron Vodka, simple syrup, lemon, iced tea, lemonade
If you're looking for a good beer and a great atmosphere, go to…
A favorite hot spot for Lake Placid locals and visitors alike, the Lake Placid Pub & Brewery, has been brewing award-winning ales and lagers for more than 21 years. Over those 20 plus years, The Pub has brewed almost 150 different styles of beer. Their Flagship beer, Ubu Ale, can be found in multiple states and is even a favorite of former President Bill Clinton!
The Lake Placid Pub has a fun atmosphere with multiple floors for dinning and drinking. The first floor, P.J. O'Neill's, has a large bar, booth seating, bar games, and TVs for watching the game. The gift shop is also located on the first floor which features select merchandise and beer for purchase. Bring your drink outside and hang out with your friends in the classic Adirondack chairs. There's also fun games like Cornhole and Giant Jenga!
The second and third floors offer more seating options and smaller bars. Both floors also have outdoor seating with views of Mirror Lake. The third floor, known as The Hop Loft, is also available for private parties, events, and group functions.
When you should go:
The Pub's kitchen is open 11:30am – 9pm Monday through Thursday, 11:30am – 10pm Friday &  Saturday & 12pm – 9pm Sunday (winter hours) 
P.J. O'Neil's is open until 2am every day
Tuesdays for Two-fers: two-for-one house pints and house liquor drinks from 6:30pm – 2am
The Lake Placid Pub also hosts many fun events throughout the year, which can be found on their Facebook page.
What you should eat:
Nachos – Tri color tortilla chips covered with our house ale queso topped with your choice of chili, pulled BBQ beef short ribs, cajun chicken or vegetarian,
garnished with salsa, sliced fresh jalapenos, black olives & sour cream
Shepherd's Pie –  Short rib, corn, peas, onions, & a rich mushroom & onion gravy,
covered in mashed Idaho potatoes & topped with shredded Jack & cheddar cheese
Josh's Fire Fish – A Pub classic. Beer battered haddock tossed in hot wing sauce served with fries, & a side of blue cheese
What you should drink:
The Pub always has six beers on tap that rotate in and out of the line-up. Some favorites include:
Ubu – the famous flagship that's always on tap.
English-style Strong Ale with a deep garnet red color | features dark fruit and roasted malt flavors, with a slightly bitter finish
High Peaks Hefewiezen – on tap throughout the summer until roughly mid-September
German Style Wheat Beer with a yellow/pale orange color. It has a very spicy aroma with hints of banana and clove


You should also check out the pub's sister restaurant…
Open since June 2016, Big Slide has a more modern, industrial feel and features 10 house brewed beers and a farm-to-table menu. Sit inside at the bar or table seating and watch the game, or sit outside on the patio and take in the views. The patio is also dog friendly and features lawn games for the kids and kids at heart!
When you should go:
Big Slide is open 11:30am – 10pm Monday through Saturday 
10am – 10 pm Sunday (brunch menu 10am-1pm)
Wednesdays for Sour Hour: 5pm until 10pm, BOGO on sour beers and a non-sour rotating beer, plus special sour cocktails
Sundays for brunch: from 10am until 1pm. Features bottomless mimosas.
What you should eat:
Poutine – Fries, House Vegetarian Bourbon Gravy, Meier's Dairy Cheese Curds
New Mega-Roni Pizza – Thick Crust, Red Sauce Base, shredded mozzarella,
fresh mozzarella, pecorino, pepperoni, sliced jalapenos, honey drizzle
Brunch: The Hangover Helper – Round roll, North Country smokehouse bacon, fried eggs, sliced american cheese, spicy sriracha maple aioli with shredded tater tot hash on the side
What you should drink:
Big Slide always has ten beers on tap that rotate in and out of the line-up. Some favorites include:
Leipzig Gose – Traditional Berliner Weiss fermented with 100% Lacto Delbrueckii. Pale yellow, tart & refreshing, with the addition of French Sea Salt & Coriander.  4.7% ABV, 9 IBU
BETA Hazy IPA – a hazy IPA brewed in support of the Barkeater Trails Alliance. Brewed with heaps of flaked oats & wheat malt & loaded with Galaxy, Amarillo & Loral hops. A portion of every sale goes to support trail building & maintenance throughout the Adirondacks!
Located off the main drag, heading towards the Olympic Ski Jumping Complex, is the snug New American eatery Liquids & Solids. L&S features an innovative, sophisticated, and unique menu, plus creative cocktails. They have indoor seating, as well as a fun patio with picnic tables, blankets, and pillows.
When you should go:
Liquids & Solids is open  4pm – 10pm Tuesday – Saturday
5pm – 9pm Sunday | Closed Monday
Friday Night: 4 course food & beer pairing menu
What you should eat:
Fried Brussels Sprouts
Charcuterie board – your choice of meats and local cheeses, served with accompaniments
What you should drink:
Balsamic Fizz – vodka, strawberry juice, basil, balsamic vinegar, soda water, pineapple juice
Maple & Spice – bourbon, maple syrup, cayenne pepper, lemon juice, apple juice
Centrally located on Main Street in Lake Placid, you can smell the BBQ before you step foot inside Smoke Signals. A popular location for locals and tourists alike, Smoke Signals offers great BBQ flavors with amazing views.
Looking for someplace to host your event? Whether you're looking for a small intimate space or want to rent out the whole restaurant, Smoke Signals has an option for you!
When you should go:
Smoke Signals is open 4pm – 9pm Monday – Thursday | 3pm – 10pm Friday | 12pm – 10pm Saturday & Sunday
Live Music nights: check their Facebook page for updates.
What you should eat:
Southwest Salad – choice of grilled chicken, pulled pork, or smoked tofu, romaine, corn, black beans, onions, cherry tomatoes, jack cheese, tortilla strips, ranch and house BBQ
ADK BBQ Tacos – 3 tortillas with choice of pulled pork, grilled chicken, sliced brisket, burnt ends, or smoked tofu, topped with lettuce, jack cheese, and salsa
Sample for Two – ribs, brisket, and pulled pork, choice of two sides, and two pieces of cornbread
What you should drink:
44 North Vodka – Huckleberry Lemonade
Blackberry Margarita – blackberry moonshine, tequila, triple sec, house-made sour mix
Open for breakfast, lunch and dinner, Generations is a family-friendly restaurant connected to the Golden Arrow Lakeside Resort. In keeping with the sustainable philosophy of Golden Arrow Lakeside Resort, the menus feature many foods that are grown and raised locally. Generation's goal is to keep it as local and fresh as possible, showcasing the many wonderful farms and products that are grown, raised, and cultivated in New York's Adirondack region.
Generations Restaurant is also a great spot to host your business meeting, family reunion, or wedding reception. With multiple spaces available, there is an option for you, no matter how large or small your group is.
When you should go:
Generations is open 7am – 9pm daily (10pm seasonally)
Happy Hour: 3pm – 7pm at the bar (Golden Arrow guests get happy hour prices all day!)
Trivia Tuesday: 7pm start, prizes to the top three teams
Checkout Facebook for hints!
Live music Friday:  7pm – 10pm 
Checkout Facebook for weekly updates!
What you should eat:
Blue Mt. Lake – Three pancakes infused with blueberry puree, then stuffed with fresh blueberries & topped with lemon butter. Served with your choice of meat.
Fire Tower – Giant handmade Bavarian pretzel paired up with our
house Bitburger mustard & beer cheese for dipping
Wolfjaw Burger – 8oz farm burger, Sawtooth BBQ, Whiteface cheddar, uncured bacon & crispy Tobacco onions
What you should drink:
Lakeside Libation – An American Golden Ale brewed with Pale, Wheat & Rye Malts and featuring Pacific Jade hops from New Zealand.
Gentleman's Fig – Figenza vodka, bourbon & lime juice muddled with blueberries. Served in a rocks glass & finished with a splash of ginger-ale.
Wyatt's, Where Tex Meets Mex, is located in the Alpine Mall on Main Street and is a great option if you're looking for something quick and tasty. 
When you should go:
Wyatt's is open 11am-8pm Monday, Tuesday, Thursday & Sunday | 11am-9pm Fridat & Saturday | Closed Wednesday
What you should eat:
Southwest Salad – a bed of lettuce topped with your choice of meat, roasted corn, toppings, salsa & chipotle ranch
All American Burrito – mac 'n' cheese, slow-smoked brisket, toppings & BBQ sauce
Nachos – crunchy corn chips layered with cheese and smothered with toppings
"The only thing we overlook is the lake!"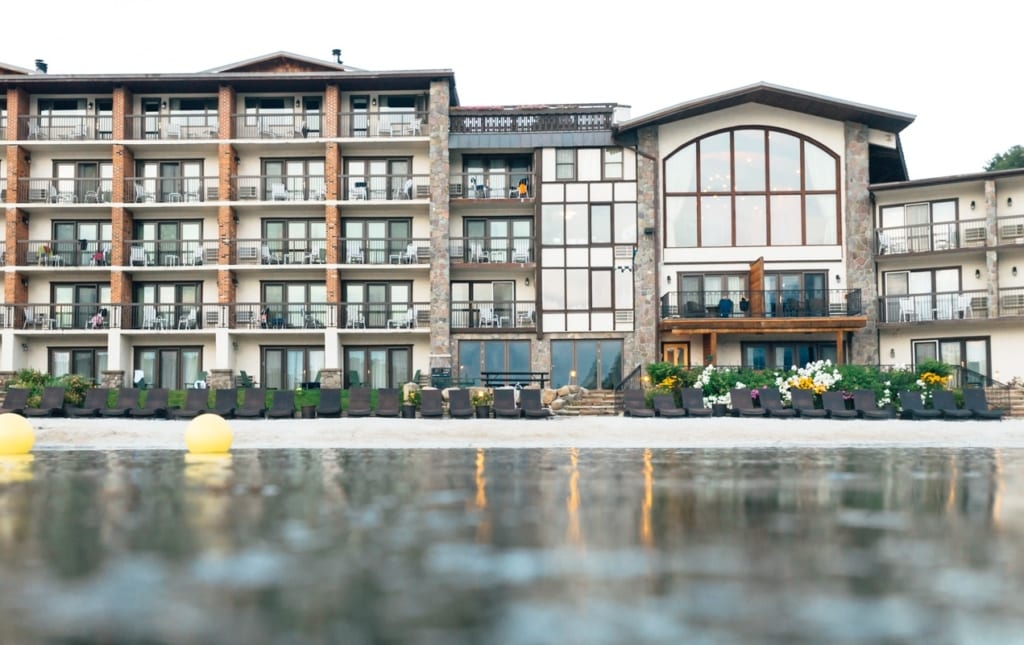 Surrender yourself to the natural and untouched beauty of the Adirondack Mountains at the first resort in the U.S. to receive the Audubon International's Platinum Eco Rating for Hotels. There are now only six hotels in the United States to obtain this honor! It's a place to renew yourself on the serene shores of Mirror Lake, and take in the history of the town, just steps away from the famed Olympic Village and the heart of Lake Placid, New York. No other place on earth provides this unique blend of comfort, rejuvenation, or one-of-a-kind experiences. Start planning your stay at the Golden Arrow Lakeside Resort now!
Joell grew up in Jefferson Country New York and is an avid hockey fan.
In her free time she enjoys hiking, snowshoeing and playing with her dog.