Mirror Lake & Lake Placid Lake
Did you know, the village of Lake Placid actually sits on Mirror Lake, not its namesake lake?
As its name suggests, Mirror Lake is a calm lake that at many times perfectly reflects the village surrounding it. No motorized boats are allowed in the lake, making it the perfect spot to kayak, paddle board and swim in the warmer months. Mirror lake is also home to swim portion of Ironman Lake Placid (the longest running Ironman Triathlon in the continental US!)
During the winter months, the lake freezes, making it the perfect spot for skating! Here at the Golden Arrow, we keep a rink plowed for pick-up games. The village also plows, so you can skate a loop around the lake! 
When the ice is thick enough, you can also take a dog sled ride or go down the toboggan chute! 
Lake Placid, the lake, is located just off Mirror Lake Drive. This is a great spot for boating, fishing or paddling (motor boats are allowed in this lake). Unlike Mirror Lake, you cannot walk around Lake Placid lake. 
Here are the best ways to see the lake:
If you're walking around Mirror Lake, stop at the Lake Placid Marina. You can take a peak at the lake here or go on a boat tour (be sure to ask about the Lady in the Lake!)
Take a short drive up Saranac Ave to the Peninsula Trail and walk the Lakeshore Trail. You can stop at the dam and take a dip in the lake before taking in the views!
Get a birds-eye view of the whole lake at Whiteface Moutain. Drive up the Whiteface Memorial Highway or take the Cloudsplitter gondola up to Little Whiteface. 
"The only thing we overlook is the lake!"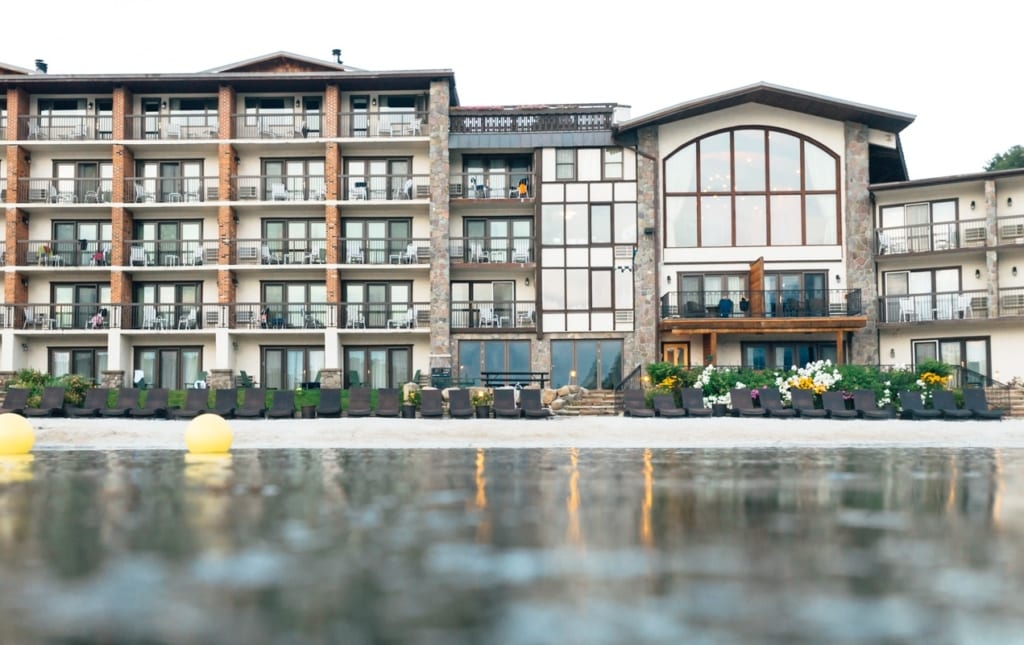 Surrender yourself to the natural and untouched beauty of the Adirondack Mountains at the first resort in the U.S. to receive the Audubon International's Platinum Eco Rating for Hotels. There are now only six hotels in the United States to obtain this honor! It's a place to renew yourself on the serene shores of Mirror Lake, and take in the history of the town, just steps away from the famed Olympic Village and the heart of Lake Placid, New York. No other place on earth provides this unique blend of comfort, rejuvenation, or one-of-a-kind experiences. Start planning your stay at the Golden Arrow Lakeside Resort now!