Something to do every day of the week this summer.
A Week in Lake Placid - The Summer Edition
An Activity for Every Day
Summer in Lake Placid is full of fun activities and events. There's a number of big sporting events like Horseshow and Ironman, a number of great shops and restaurants within walking distance of the Golden Arrow, plus a lake for swimming and paddling. Not to mention a mountain or two to hike!
Whether you're visiting for a few days or are lucky enough to be here for an extended stay, we have something for you and your family to do every day of the week. 
Whether you're looking for a break from the sun, or an escape from the rain, checking out the local movie theater is a great activity for the whole family. The Palace Theatre was built in 1926 and has been in the Clark family since 1961. It's grown from a single screen theater to a four screen, all digital venue. One theater does still have a 35mm film projector for special events. The Palace is a nostalgic venue to catch a modern movie, with reasonable pricing. During the summer, The Palace is open daily with 7pm and 9:30pm showings – $10 for adults and $8 for children. You can also catch a 3:30pm matinee show for $8. The Palace does not except cards, so make sure to bring cash. You can find their current showings every week on Facebook.
Check out more on the history of The Palace Theatre.
Songs at Mirror Lake is a free summer concert series,  held Tuesday evenings at the Mid's Park Bandshell in downtown Lake Placid. Their mission "is to introduce residents and visitors to a diverse range of musical offerings and to provide regional artists with a platform for exposure and experience." The genre changes every week, allowing for spectators to find something new to listen to. Mid's Park is walking distance from the Golden Arrow, so you can head down and take a seat on the lawn (chairs and blankets are allowed). You can also bring a snack or grab a slice of pizza from Ere's next door. Another viewing option is to use one of our complimentary water toys and watch from Mirror Lake. 
Visit the Lake Placid Farmer's Market! The Farmer's Market is located outside of Green Goddess on Saranac Ave, just a short drive from the Golden Arrow. You can find local foods like fresh vegetables, honey, and breads as well as Adirondack inspired ceramics. The Lake Placid Farmer's Market is open every Wednesday 9am – 1pm from mid June through mid September.
Wednesday evenings are a great time to visit Mid's Park and listen to the Lake Placid Sinfonietta. The Wednesday Night Concert Series features a free hour long show that's great for the whole family. Wednesday night shows usually run in July & August. Just as with Songs at Mirror Lake, seating is limited and it is recommended you bring your own chair or blanket. 
There are a number of great breweries in the Lake Placid area, perfect for quenching your thirst! Two great options are both within walking distance of the Golden Arrow, so you can fully enjoy your pints without the need to drive back to your hotel. 
Our go to location is the Lake Placid Pub & Brewery. The Pub has been in operation for over 25 years, and have brewed close to 150 different styles of beers. In 2020, they updated their draft system to include 12 lines. You can find 10 different beers (including the flagship UBU) as well as prosecco and a house brewed hard seltzer on tap at all times. They also offer tasty food options like pretzel bites, burgers, and desserts (made in their own bakery!)
Another great brewery to check out is Great Adirondack Brewing Company. Formerly known as Great Adirondack Steak & Seafood, the restaurant  has been operated by the Kane family for nearly 40 years. With the continued growth of their brewery, they changed their name in 2018, but continue to serve up the same great food. They feature a seven barrel system, stop in and try one, or get a flight and try them all!
Want to explore more breweries in the area? Here are some worth checking out:
Golden Arrow guests receive a special treat during the summer. The Smoke Show Fire Co lights up the dock every Friday night in a free show – just for GA guests! Guests can watch from their balcony or join on the lawn for an up close performance. Stay after the show, meet the performers and get your photo taken! 
Saturday is a day for the S's – sun, sand, swim, and SUP – for starters. When you stay at the Golden Arrow you have access to our private beach, perfect for soaking up the sun or playing in the sand (we have all sorts of toys for kids and kids at heart to play with too). When you need a break from the sun, step into Mirror Lake for a refreshing swim or take one of our complimentary SUPs for a spin. We also offer kayaks, canoes, water bikes, and boats!
What's a Sunday without brunch? Head over to Generations for yummy eats and bottomless mimosas. The brunch menu features some of Generations classic breakfast items (The Hasselhoff and Eggs Adirondack) as well as some new favorites (Herr Peter and The Wolf). 
Another Sunday option worth checking out is the Keene Farmer's Market. Located in Marcy Field between Keene and Keene Valley, this farmer's market is a bit bigger than the Wednesday Lake Placid market. The Keene Farmer's Market is open every Sunday 9:30am – 2pm from the end of May to the beginning of October. You can find local produce, cheese, honey, and delicious baked goods! 
Come Live Like a Local Something to do every day...
Read More
"The only thing we overlook is the lake!"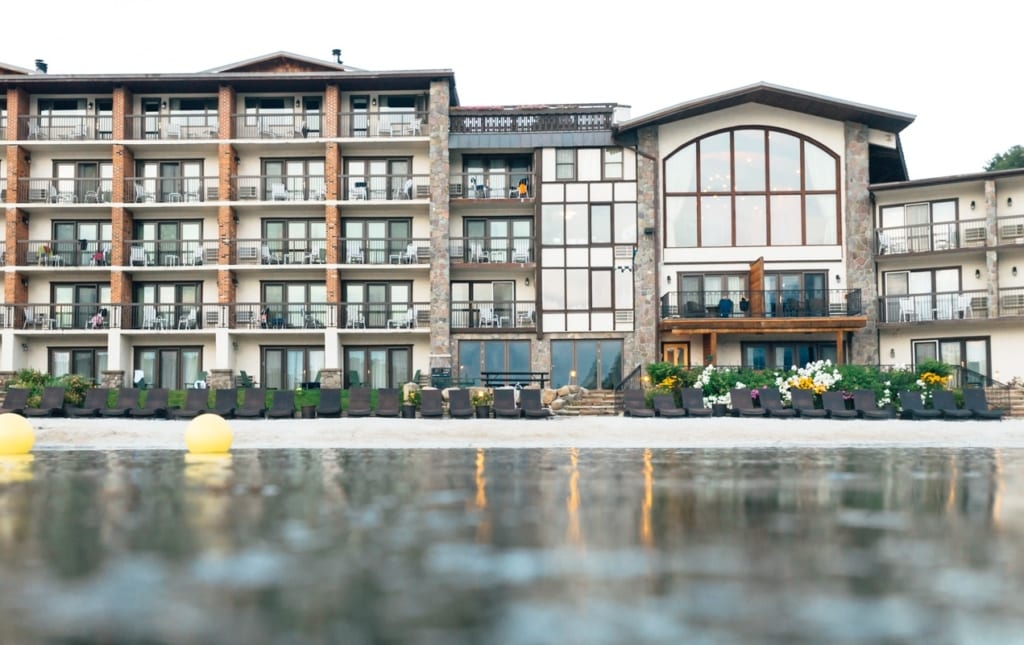 Surrender yourself to the natural and untouched beauty of the Adirondack Mountains at the first resort in the U.S. to receive the Audubon International's Platinum Eco Rating for Hotels. There are now only six hotels in the United States to obtain this honor! It's a place to renew yourself on the serene shores of Mirror Lake, and take in the history of the town, just steps away from the famed Olympic Village and the heart of Lake Placid, New York. No other place on earth provides this unique blend of comfort, rejuvenation, or one-of-a-kind experiences. Start planning your stay at the Golden Arrow Lakeside Resort now!