Corn Mazes, Farms & Orchards
Some of the best places to take in all that fall has to offer are local farms and orchards.
Whether you are interested in apple picking, petting zoos, corn mazes, or delicious baked goods, the following will meet your needs! 
Fun for the whole family, and less than an hour from Lake Placid, they are a must on your fall bucket list while visiting the Adirondacks.
Just off Interstate 87 sits Rulfs Orchard, a farm started by Bob Rulfs in 1952.
The farm started with just four milk cows and three heifer calves, plus 12 acres of apple trees.
Over the last 60 plus years, Bob and his family have worked hard to expand their business. In the 60's they purchased another farm and started growing tomatoes and sweet corn. In 1983 they added the cider mill, and in 1987 the bakery. Today, Rulfs offers a variety of produce, baked goods, and canned items.
From mid-September through Halloween, Rulfs offers U-Pick Pumpkins. Wagon rides to the pumpkin patch run on the weekends from 10am – 4pm. Weekday rides are by appointment only, so it's best to call ahead. Rulfs also offers a variety of pre-picked pumpkins in the greenhouse (located next to the store.) All pumpkins are $.50 per lb, but never more than $9.00 each! Check out Rulfs website for pumpkin picking tips.
Pumpkins aren't the only produce you can pick at Rulfs. They also offer U-Pick apples, strawberries, and blueberries, seasonally of course.
Looking for more to do at Rulfs? Take part in their corn maze! The maze is open 10am- 4pm daily. The 2021 theme is Pollinators.
Want to make it more challenging? Stop by on one of their flashlight nights (10/16 & 10/23). 
Corn maze tickets are only available online for the 2021 season.
Rulfs also offers a playground area for kids and a petting zoo – make sure to stop by and say hi to Chloe the horse, she loves the attention!
After all the outdoor activities, head inside the main store for a variety of produce, jams, cider, and gift options. Grab a sandwich at the café, and then check out the bakery for an assortment of cookies and sweets! A variety of donuts and pies are available year round. Not all flavors are made every day, but if you're looking for something specific, just call ahead! *The blueberry donuts are delicious!
Tucker Farms is a family owned and operated potato farm located 20 minutes north of Lake Placid. Tucker Farms offers 14 varieties of NYS certified potatoes to commercial, farm-stand, and home growers. They also sell their potatoes to local chefs and retail stores! You may have had them at Liquids & Solids, Lisa G's, or the Whiteface Lodge.
A big draw in the fall at Tucker Farms is their corn maze. The corn maze features a fun new design every year. When you get to Tucker Farms, you will receive a map. Within the maze you will find a number of mailboxes with picture pieces. As you collect the pictures, you add them to the map. Once you find all the pieces, you will see the design! Once you've finished the maze, head back to the start for a bonfire complete with s'mores fixings!
For a really fun and challenging experience, try the corn maze at night. Friday and Saturday nights, the corn maze is open later and guests use flashlights or headlamps to find their way through the maze. They also have a Fright Night to get you ready for Halloween!
Country Dreams Farm is a family-owned farm, run by "down-to-earth people who truly care about what they do."
Bring the whole family for a walk through the corn maze, then tour the property on a horse drawn wagon ride. Don't forget to check out the pumpkin patch. Kids, and kids at heart, can stop by the petting zoo and feed the animals as well!
During the winter, Country Dreams also offers an "authentic Adirondack Sleigh Ride" at their Lake Placid location. You'll take in views of the Olympic Ski Jumps, Whiteface Mountain, and more while touring the historic John Brown Farm. You'll also get the chance to take photos with their Belgian draft horses. After your ride, warm up in their Adirondack cabin with some hot cocoa!
"The only thing we overlook is the lake!"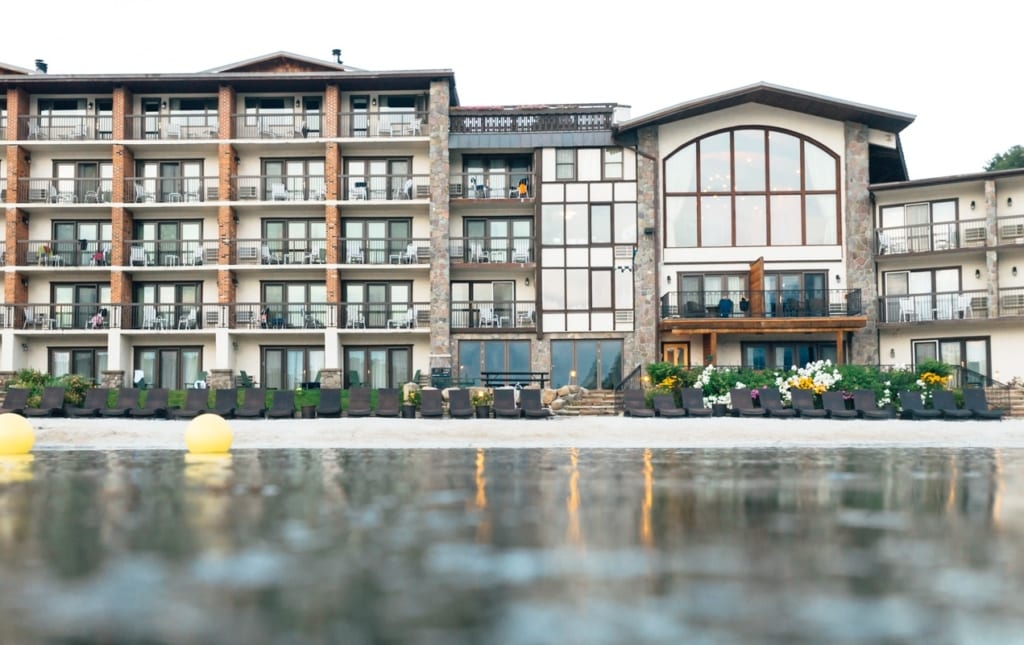 Surrender yourself to the natural and untouched beauty of the Adirondack Mountains at the first resort in the U.S. to receive the Audubon International's Platinum Eco Rating for Hotels. There are now only six hotels in the United States to obtain this honor! It's a place to renew yourself on the serene shores of Mirror Lake, and take in the history of the town, just steps away from the famed Olympic Village and the heart of Lake Placid, New York. No other place on earth provides this unique blend of comfort, rejuvenation, or one-of-a-kind experiences. Start planning your stay at the Golden Arrow Lakeside Resort now!