Top Breakfast Spots in Lake Placid
"One should not attend even the end of the world without a good breakfast." ― Robert A. Heinlein
Breakfast, it's the most important meal of the day right? It is if you've got a full day of activities in the ADKS!  Whether you're touring the Olympic Venues, hiking a high peak, or spending a day on the slopes at Whiteface Mountain, starting your day with a good meal is essential. Here are some of the great places to grab a bite in Lake Placid – three places to sit down for breakfast, plus three great grab-and-go options if you want to bring your meal with you.
**Please note that restaurant hours and availability may differ due to COVID 19. We suggest checking their social media & website for up-to-date hours, menus, and policy. Most restaurants also require guests to have masks on when not sitting at their table.
Generations is a family-friendly restaurant that sits directly on Mirror Lake. In keeping with the sustainable philosophy of the connected Golden Arrow Lakeside Resort, the menu features many foods that are grown and raised locally. Generations' goal is to keep it as local and fresh as possible, showcasing the many wonderful farms and products that are grown, raised, and cultivated in New York's Adirondack region.
What you should eat:
The Hasselhoff – a Generation's infamous giant hand crafted Bavarian pretzel served with beer cheese sauce, stuffed with scrambled eggs, home fries & your choice of meat
Blue Mt. Lake – Three pancakes infused with blueberry puree, then stuffed with fresh blueberries & topped with lemon butter. Served with your choice of meat
When you should go:
Daily 7:30am – 11am
The Breakfast Club, etc. is a full service restaurant and bar with a beautiful lakeside location. They serve delicious and creative items that expand the expectations of what breakfast can be. They also have 10 varieties of Bloody Marys – all hand shaken and made form scratch!
What you should eat:
Stuffed French Toast – two pieces of cinnamon nutmeg french toast stuffed with mixed berry compote & mascarpone

Apple, Sausage & Brie Röstis – a bed of seasoned home-fried potatoes served on a cast iron skillet topped with two eggs to order, apple, sausage and melted brie
When you should go:
Monday, Tuesday, Friday: 8am – 1pm
Closed Wednesday & Thursday
Saturday & Sunday: 7am – 1pm
The Farmhouse Cafe offers delicious homemade breakfast in a warm and friendly atmosphere. Featuring real Adirondack maple syrup and genuine Hollandaise sauce, you can't go wrong with any menu item! Plus, all you can eat flapjacks on Wednesdays!
What you should eat:
The Bark Eater – Farmhouse french toast stuffed with a blueberry & vanilla cream cheese filling
Classic Eggs Benedict – Two poached eggs atop Canadian bacon on an english muffin. Finished with house-made hollandaise sauce 
Adirondack Flapjacks – A stack of fluffy buttermilk flapjacks (add blueberries or chocolate chips!)
When you should go:
Tuesday – Sunday: 7am – 2pm 
Closed: Mondays
What they have:
bagels & breakfast sandwiches
When you should go:
7am – 1pm
What they have:
breakfast sandwiches, burritos, crepes
When you should go:
Sunday – Thursday: 8am – 4pm 
Friday & Saturday: 8am – 5pm
What they have:
Sweets for the soul.
Cash or Venmo payments excepted
When you should go:
Sunday: 7am – 1pm
Closed Monday & Tuesday
Wednesday & Thursday: 7am – 12pm
Friday & Saturday: 7am – 2pm
"The only thing we overlook is the lake!"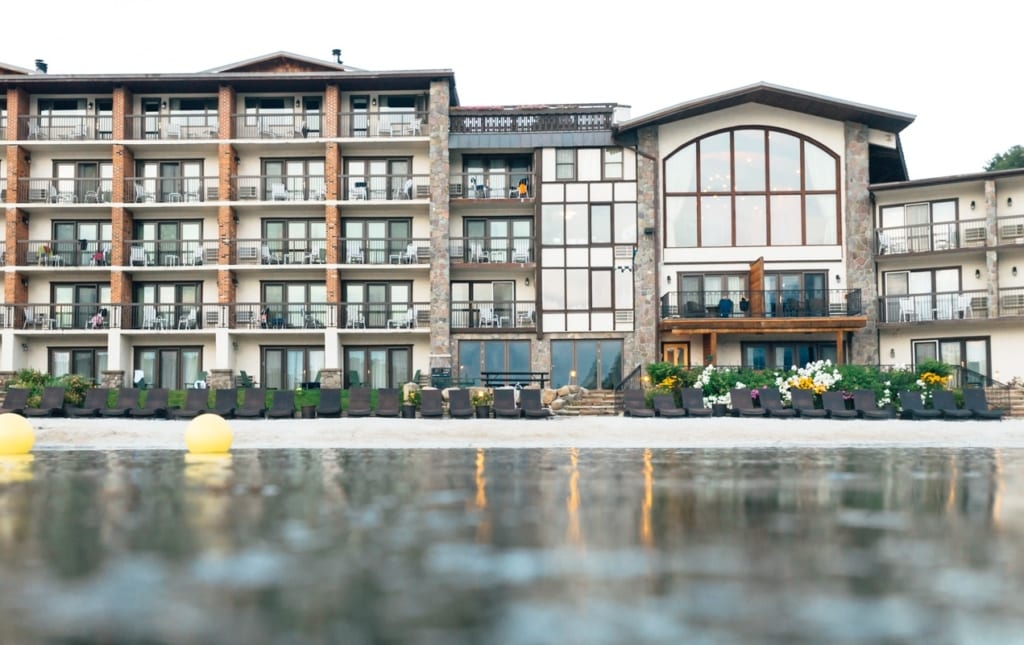 Surrender yourself to the natural and untouched beauty of the Adirondack Mountains at the first resort in the U.S. to receive the Audubon International's Platinum Eco Rating for Hotels. There are now only six hotels in the United States to obtain this honor! It's a place to renew yourself on the serene shores of Mirror Lake, and take in the history of the town, just steps away from the famed Olympic Village and the heart of Lake Placid, New York. No other place on earth provides this unique blend of comfort, rejuvenation, or one-of-a-kind experiences. Start planning your stay at the Golden Arrow Lakeside Resort now!