"Hiking is the answer. Who cares what the question is." ― Unkown
Hiking and the Adirondacks go hand in hand. With some of the best trails in the east, Lake Placid and the surrounding areas have numerous hiking options to meet the needs of your friends and family.
If you're looking for an outdoor activity, but only have a few hours, or if you're working up to conquer a High Peak, these are great options that offer amazing views.
Lake Placid, NY
Easy-Mod: 1-2 hours
Elevation Gain: 1,500ft
Roundtrip: 2.4 miles

A relatively short trail for a rewarding mountaintop experience featuring views of the Village of Lake Placid and High Peaks region. Be sure to pay attention to signs. There are several intersections with unmarked paths. After .4 miles, an intersection marks the split for the short and long trails. The shorter, steeper route on the right is .8 miles and may be a challenge for small children, those with physical impairments, or a fear of heights. The longer 1.6 mile trail on the left follows Echo Pond and has a more gradual ascent. Both trails combine for a 2.4 mile loop. 
Directions: 1.5 miles | 5 minute drive
Turn left out of the Golden Arrow. Take a slight left onto Parkside Drive (past the church, towards the toboggan chute.) At the four way, turn left onto Mirror Lake Drive. Turn right onto Northwood Drive. Turn left onto Northwood School. Turn left to stay on Northwood School. Parking will be on the left.
2021 Update: There is no longer any trailhead parking for Cobble Hill trails, so Lake Placid–area hikers are encouraged to base Cobble hikes from your home or hotel, or to begin your walk from a designated parking space on Mirror Lake Drive or a municipal lot.
Temporary foot access will be provided for 2021 over private lands from a trailhead near Northwood School's Mirror Lake Drive gate, and from a trailhead on Whitney Road, just steps from Mirror Lake Drive. There is no parking at either trailhead, so hikers should factor approximately a half-mile walk from the downtown Lake Placid area.
Wilmington, NY
Easy-Mod: 2-3 hours
Elevation Gain: 1,160ft
Roundtrip: 3.2 miles

This trail in the Whiteface Mountain Intensive Use Area ascends 1.6 miles and 1,160 feet from the trailhead, to the 2,400-foot summit. Enjoy spectacular views of Whiteface Mountain, including the ski trails and summit. The trail is part of the Flume Trail Network and is open to the public for day use free of charge. Bikes are allowed on the first .4 mile of the trail. The summit provides views of the West Branch Ausable River Valley, Sentinel Range, and Stephenson Range. 
Directions: 9.8 miles | 16 minute drive
Turn left out of Golden Arrow parking lot. Stay straight on 86E towards Wilmington. Turn left into the Whiteface Mountain Ski Area. Free parking is located at Kids Campus.
Saranac Lake, NY
Moderate: 1-2 hours
Elevation Gain: 879ft
Roundtrip: 1.7 miles 
Starting from the north end of Moody Pond you will start climbing almost immediately. The trail is a bit steep but offers great views as you ascend further. At 0.6 miles from the trailhead, an intersection offers part of an upper mountain loop. Left is a less aggressive climb and avoids the steep ledges that can be found if you head right. Both finish at the summit of Baker. The loop makes for a great hike option. The summit of Baker offers great views over the Village of Saranac Lake, the McKenzie Mountain Wilderness Area and toward the High Peaks Region. Be sure you are on the marked trail when you leave. Dogs are also able to use this trail but must be kept on a leash.
Directions: 22.3 miles | 31 minute drive
Turn right out of Golden Arrow parking lot. Follow Main Street to Sara-Placid Road (86W). Stay on this road for about 5.5 miles. Take a slight right onto McKenzie Pond Road (just after Tractor Supply). Continue onto Pine Street. Turn right onto Forest Hill Ave. Parking is along Forest Hill Ave by Mood Pond.
Franklin Falls, NY
Moderate: 3-4 Hours
Elevation Gain: 1,540ft
Roundtrip: 3.6 miles
This trail in the Taylor Pond Wild Forest ascends 1.8 miles and 1,540 feet from the trailhead on Forestdale Road to the 3,168-foot bedrock summit. The hike includes one steep and exposed scramble. The view from the summit includes Taylor Pond, Silver Lake, Union Falls Pond, the Wilmington Range, the Stephenson Range and Whiteface Mountain.
Directions: 21.5 miles | 36 minute drive
Turn left out of Golden Arrow parking lot. Stay straight on 86E to Wilmington. At the four corners, turn left onto 431N. Take a slight right onto Gillespie Drive. Turn right onto Roseman Lane. Turn right onto Plank Road. Plank road turns into Forestdale Road. Parking area is located on the left side of Forestdale Road
"The only thing we overlook is the lake!"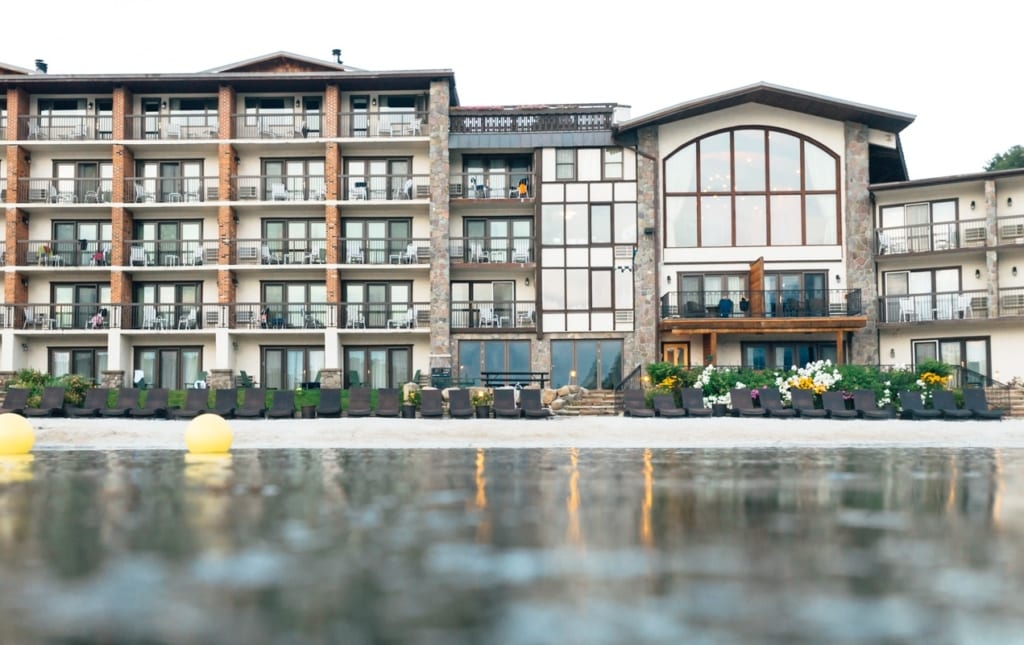 Surrender yourself to the natural and untouched beauty of the Adirondack Mountains at the first resort in the U.S. to receive the Audubon International's Platinum Eco Rating for Hotels. There are now only six hotels in the United States to obtain this honor! It's a place to renew yourself on the serene shores of Mirror Lake, and take in the history of the town, just steps away from the famed Olympic Village and the heart of Lake Placid, New York. No other place on earth provides this unique blend of comfort, rejuvenation, or one-of-a-kind experiences. Start planning your stay at the Golden Arrow Lakeside Resort now!