Top Places to Eat in Lake Placid
"One cannot think well, love well, sleep well, if one has not dined well." ― Virginia Woolf
Here at the Golden Arrow our front desk staff gets the "what's a good place to eat" question all the time. While there's plenty of places to eat around Lake Placid, we have our favorites that we tend to recommend over and over, because well, they're the best! This list contains Lake Placid restaurants with a variety of cuisines and atmospheres, so even the pickiest of eaters should be able to settle on someplace to eat! Bonus: most are within walking distance of the hotel!
COVID UPDATES: Please note that most restaurants are sitting at lower capacity than normal. Hours and menus may vary and we suggest checking social media pages & websites for the most up-to-date information. Many restaurants also require guests to wear masks when not sitting at a table.
If you're looking for locally sourced food…
Make a reservation online!
Open for breakfast, lunch and dinner, Generations is a family-friendly restaurant connected to the Golden Arrow Lakeside Resort. In keeping with the sustainable philosophy of Golden Arrow Lakeside Resort, the menus feature many foods that are grown and raised locally. Generation's goal is to keep it as local and fresh as possible, showcasing the many wonderful farms and products that are grown, raised, and cultivated in New York's Adirondack region.
Generations Restaurant is also a great spot to host your business meeting, family reunion, or wedding reception. With multiple spaces available, there is an option for you, no matter how large or small your group is.
What you should get:
Camp Rueben: Brick oven pastrami, premium sauerkraut, Swiss cheese & homemade Thousand Island dressing on grilled rye bread
North Country Chicken Pot Pie: In house smoked chicken breast, Black River bacon bits, dumplings, & roasted mirepoix in a rich chicken broth. Served free-form with a fresh baked puff pastry
When you should go:
Breakfast 7:30am – 11am
Lunch 12pm – 4pm
Dinner 5pm – 9pm
Happy Hour Daily 3pm – 7pm

Generations will be closed April 13 – April 28
Open 4/12 7:30am – 2pm & 4/29 4pm-9pm
If you want a really good sandwich, go to…
With the same owners, and similar menus, either option is a great choice for a delicious lunch time staple.
Big Mountain Deli & Creperie is located on Main Street and convenient if you're waking around town. Big Mountain is a colorful daytime counter-serve restaurant known for their 46 sandwich varieties – all named after the 46 High Peaks of the Adirondacks. They also offer a variety of breakfast options, salads, sweet and savory crepes, plus smoothies and beer. They use fresh ingredients, including Boar's Heads Meats and homemade bread.
Don't let the long line and chalkboard wall intimidate you. The line moves quickly and you can't go wrong with any menu choice!
Simply Gourmet is just a short drive up Saranac Ave (only 1 mile from the Golden Arrow) and offers the same sandwich menu, plus a soup bar and selection of prepared foods and baked goods. You can also order online from Simply Gourmet, which is a great option if you're in a hurry!
What you should get:
#3 Haystack: roast turkey, smoked cheddar, roasted red peppers & maple mayo
#19 Table Top: applewood smoked bacon, lettuce, tomato & maple mayo
When you should go:
Big Mountain is open daily 8am – 4pm 
Simply Gourmet is open Monday – Friday 8am – 6pm
Saturday & Sunday 8am – 4pm
If you're looking for a good burger, go to…
The 'Dack Shack is the sister business to Big Mountain Deli and Simply Gourmet. They specialize in classic lunch fare including hot soups, fresh sandwiches and salads, as well as a more unique nightly fare with Gastro-Pub, Asian, Caribbean, and American influences! 
What you should get:
'Dack Burger: smoked bacon, sauteed onions, field greens, tomato & secret shack sauce
Add a side of fries with maple mayo!
Open Tuesday – Saturday 4 – 8pm
CLOSED  Sunday & Monday
Lisa G's features comfort foods with a modern twist. They have a great selection of wing flavors + a variety of dips to go with them. If you're having a hard time choosing what to get, stop by on Monday night for Wing Night. If you sit on the bar side you can choose how many of each flavor you want for a discounted price. Plus, they have a special flavor of the night!
What you should get:

Grilled Mahi-Mahi Tacos: grilled, lime marinated mahi-mahi, cucumber & carrot slaw, sriracha aioli
The Brazilian: a brazilian dish of mahi mahi, shrimp, mussels & calamari in a light'n'spicy coconut milk broth, cilantro-lime rice, chili oil
In-house dining & take-out available:
Monday, Thursday, & Friday: 4pm – 9pm
Saturday: 12pm – 9pm
Sunday: 12pm – 8pm
If you're looking for a good beer and a great atmosphere, go to…
Join the waitlist online!
A favorite hot spot for Lake Placid locals and visitors alike, the Lake Placid Pub & Brewery, has been brewing award-winning ales and lagers for more than 21 years. Over those 20 plus years, The Pub has brewed almost 150 different styles of beer. Their Flagship beer, Ubu Ale, can be found in multiple states and is even a favorite of former President Bill Clinton!
The Pub is currently undergoing renovations and we can't wait to see what they've done! 
What you should get:
The Schulzy Burger: their signature burger. A grilled half pound Angus burger topped with thick cut bacon, American & cheddar cheese, lettuce, tomato, ketchup & mayo – served with fries
Maple Melt: Grilled all-natural chicken breast topped with an apple bacon & onion jam, melted NYS maple cheddar cheese, cranberry aioli, lettuce & tomato – served with fries
When you should go:
Monday – Thursday 12pm – 10pm
Friday – Sunday 12pm – 11pm 
You should also check out the pub's sister restaurant…
 Join the waitlist online!
Open since June 2016, Big Slide has a more modern, industrial feel and features 10 house-brewed beers and a farm-to-table menu. Sit inside at the bar or table seating and watch the game, or sit outside on the patio and take in the views. The patio is also dog friendly and features lawn games for the kids and kids at heart!
Stop by Sunday for brunch!
What you should get:
Grandpa's Burger: Martin's potato roll, Donahue Farm's burger parry, chef's Grandfather's pepper relish, Cabot cheddar cheese, garlic aioli, Boston lettuce, tomato
Pretzel Bites: you choose: whipped berry mascarpone dip, cheese sauce, or everything spiced honey dijonnaise
The Hangover Helper: (Sunday Brunch) locally made everything spice bagel, fried eggs, thick bacon, American Cheese, harissa mayo, spicy tot has
When you should go:
Tuesday – Saturday 11:30am – 9pm
Sunday 10am – 3pm
If you want some good BBQ, go to…
Make a reservation or order online!
Centrally located on Main Street in Lake Placid, you can smell the BBQ before you step foot inside Smoke Signals. A popular location for locals and tourists alike, Smoke Signals offers great BBQ flavors with amazing views.
Looking for someplace to host your event? Whether you're looking for a small intimate space or want to rent out the whole restaurant, Smoke Signals has an option for you!
What to get:
The Southwest Salad: Choice of grilled chicken, pulled pork or smoked tofu; romaine, corn black beans, onions, cherry tomatoes, jack cheese, tortilla strips, ranch and BBQ
Cheddar Bacon Mac n' Cheese
When to go:
Closed April 5 – April 22
"The only thing we overlook is the lake!"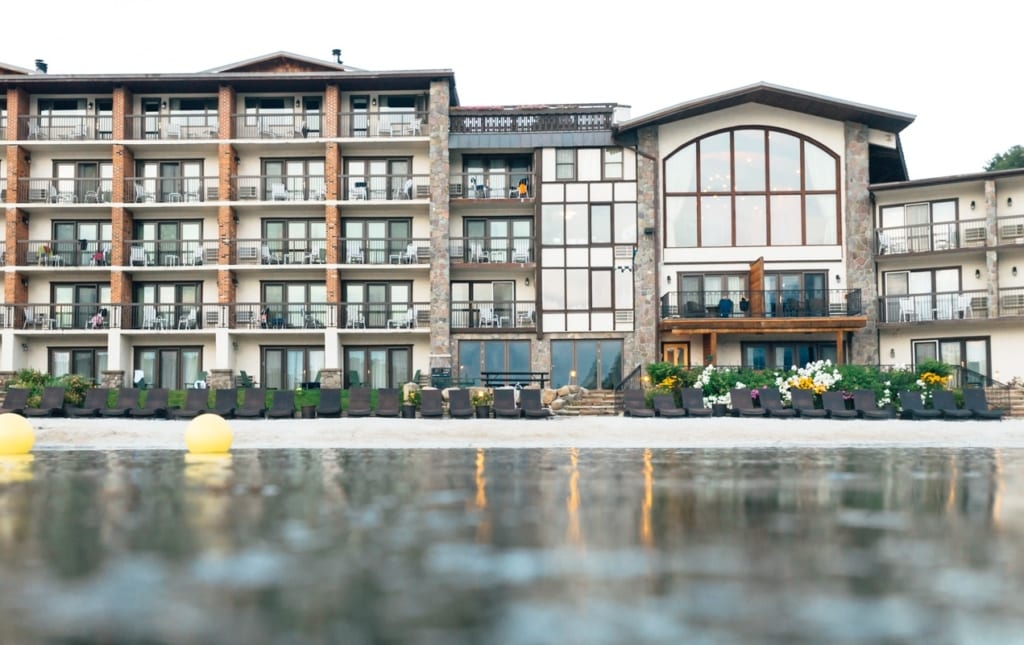 Surrender yourself to the natural and untouched beauty of the Adirondack Mountains at the first resort in the U.S. to receive the Audubon International's Platinum Eco Rating for Hotels. There are now only six hotels in the United States to obtain this honor! It's a place to renew yourself on the serene shores of Mirror Lake, and take in the history of the town, just steps away from the famed Olympic Village and the heart of Lake Placid, New York. No other place on earth provides this unique blend of comfort, rejuvenation, or one-of-a-kind experiences. Start planning your stay at the Golden Arrow Lakeside Resort now!